Thousands of activists marched in Istanbul in support of the right to education and healthcare for people with disabilities, while urging for more publicly accessible spaces on Nov. 30, ahead of the International Day of People with Disabilities, held annually on Dec. 3.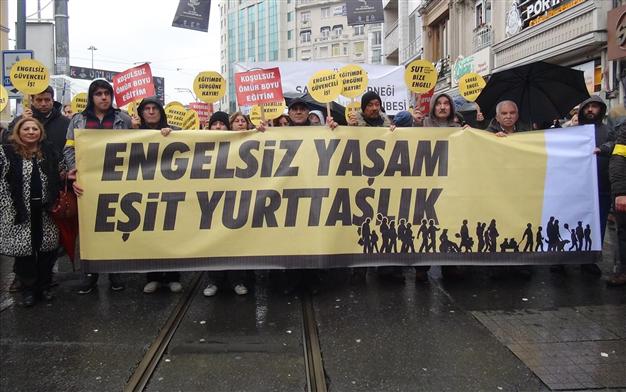 Some 44 NGOs representing a wide spectrum of civil society attended the demonstration, at which participants stressed that ensuring respect for disabled people in their social lives was not a privilege, but rather one of their basic rights.
"What disables us are not our physical or psychological conditions, but practices and attitudes that treat us as if we do not exist. We don't want any privileges; we want equality and justice, which are guaranteed by human rights conventions and the Constitution," said Turhan Hançerli, a spokesperson for the Turkish Disabled Association, in a public statement.
"The right to live independently is one of our fundamental rights," he added.
65 pct of Turkish disabled people illiterate
The legislation ensuring access to education, health services and labor has many shortcomings, while accessibility for disabled people in public spaces is another concern. Disabled activists often denounce the danger of walking in the streets or the difficulties they face when using public transportation, criticizing the lack of foresight by urban planners and local administrators.
During the march, activists carried banners reading "We want to be on the streets," "We don't ask for alms, but for jobs," demanding participation in public life.
Although disabled people face many obstacles in every aspect of their lives, one of their biggest problems is education, Hançerli said.
Only 7 percent of young disabled people finish high school and just 2 percent are university graduates, he said, adding that 65 percent of the disabled cannot read or write. He also slammed what he described as a "worsening situation," which has seen the closure of schools, the reduction of materials and downscaling of education for the disabled.
Former deputy Lokman Ayva of the ruling Justice and Development Party (AKP) recently protested the government's policies regarding disabled people by resigning from the party's Central Decision and Administration Board (MKYK) on April 13.
Ayva also criticized the party administration for not keeping its promise to nominate at least one disabled candidate to each city council in every Turkish province in the March 30 elections.
Main opposition Republican People's Party's (CHP) disabled lawmaker Şafak Pavey and Istanbul deputy Mahmut Tanal also attended the Nov. 30 demonstration in Istanbul.
December/01/2014
Activists march in Istanbul for disability rights and more accessibility