Statements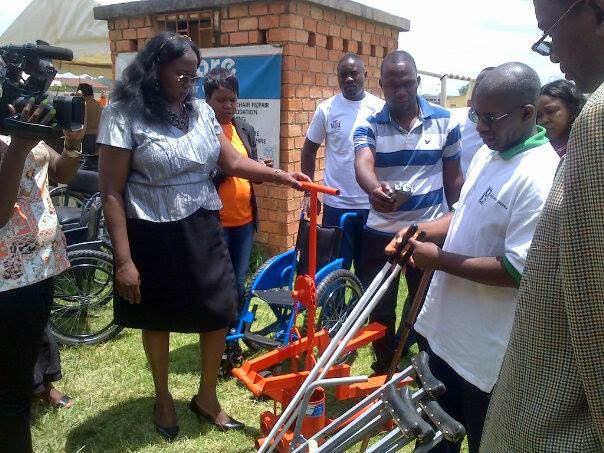 DRW OFFICIAL STATEMENT ON IDPD 2014
On the 3rd of December, 2014, Zambia commemorated the International Day for Persons with Disabilities (IDPD) just like any other country in the world. This year's theme is "Sustainable Development: the Promise of Technology". In Zambia, the theme focuses on children and women with disabilities. DRW is actively participating in all activities lined up for this day. We feel it is a responsibility and obligation to do so actively.
As we commemorate, the first question that arises before us is: where is the promise of technology when it comes to children and women with disabilities in Zambia? I see the clear promise, but I do not see the fulfillment of the promise. The second questions arise: "who promises and what have they done?" I also see the promising hand, but I do not see the hand in action. This is a concern especially that technology is a fast growing phenomenon among children.
In most homes, schools, recreation centres and streets one comes across children and youths moving around with different gadgets representing technology. This is because of the fast growing field of technology. We see computer games of all forms and shapes; different high-tech cell phones all over the place with children and youths; toys and other play machines in homes and early childhood education centres; lap tops carried around by children and youths; and other "make-life-easy" gadgets around. These technologies afford children and youths to easily access internet for valuable information; access the social media; communicate through Email; chat through different channels and enjoy teleconferencing. Children are having their physical, psychological, emotional and intellectual development being stimulated rapidly through the use of different computerized toys, games and quiz. Great for the children and youths without communication difficulties!
But, where are the children and youths with communication difficulties, especially those who are blind, deaf, deaf-blind and those with intellectual disabilities? I am sure they are not having access to the technological gadgets. This means they do not enjoy the stimulation other children without disabilities enjoy. Discrimination on the basis of disability? YES!
We recently received a complaint from deaf young man who said, "I receive a lot of phone calls from the mobile phone providers which I do not answer because I cannot speak and hear. They disturb me a lot". Does this ring sense in us? Of course it should. Here is mobile phone provider who does business inquiries on how their services are through voice calling to their clients. The mobile phone providers do not even know or understand that some of the mobile phones are owned by persons who are deaf. They inconvenience the phone owners whose phone continues to ring without answering. What the deaf person sees is the flashing light on the phone and maybe sense the vibration. This is unfair/
Here again is the mobile phone provider send a bundle of promotion messages to a mobile phone that belongs to a person who is blind. It is inconveniencing. It does not even make sense. The mobile phone providers seem not to know this. If they know, then they ignore this.
People who are blind also receive many phone automated phone calls from some mobile phone providers promoting the music they have as ring tones or whatever they call them.
Technology is extended to the transport sector. Today, we have motor vehicles fitted with accessibility features that enable persons using wheelchairs easily get into the motor vehicles without being lifted or leaving their wheelchair. Such motor vehicles are spotted around Lusaka. I take this opportunity to say 'thumbs-up' to Kabulonga Boys Secondary School who has purchased an accessible bus for their students with disabilities. This is a good example which needs to be recognised. If this school can do it, what about the right corporate world? What about the public bus owners? What about the big duty bearer that should act as an example – the State?
The other technological thorn in the flesh is about the inaccessible Automated Teller Machines (ATMs). The banks seem to be comfortable with their services. They have forgotten about those who need accessibility features on their ATMs and online banking services. We are glad banks like ZANACO have taken steps to make some of their ATMs installed with speech for those who are blind.
We are aware that the Zambia ICT Authority (ZICTA) is trying to take steps through awareness creation. We are aware of the very good workshop they convened about three weeks ago. But what are the strict and practical compliance measures and steps they should undertake? ZICTA must bite! Nevertheless, we are excited that it is taking measures to bring to book mobile operators who are inconveniencing the public through their systems. We are yet to learn whether issues of disabilities are part of the actions ZICTA is taking. Apart from calling for ZICTA to bite, we say, ZICTA should put its commitment to promote technology for persons with disabilities down to impact on the lives of persons with disabilities.
Children and youths with disabilities must enjoy access to affordable technology on an equal basis with others. If nothing is done, the promise will remain a promise in eternity. Sustainable development will remain discriminatory!
Wamundila Waliuya,
DRW – PRESIDENT
December, 2014.